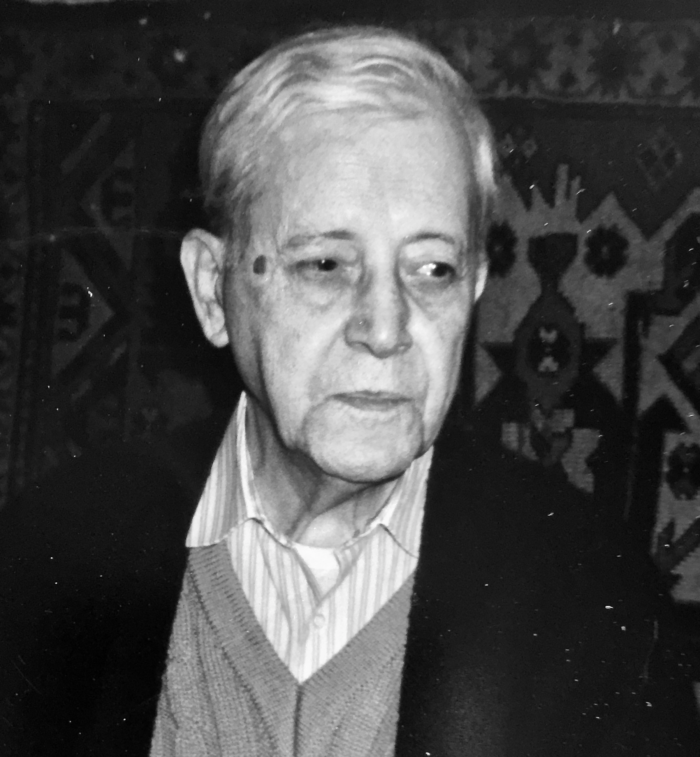 The writer at home in 1997
(©A.Dib. Picture protected by copyright. )

Biography
Born on 21 July 1920 in Tlemcen (Algeria) in a cultivated artist family, Mohammed Dib studies in primary and secondary school in French. In 1931 he obtains his two certificates of studies, the "indigenous" one and the "European" one. The same year his father dies of pneumonia. His mother is widowed with six children, Mohammed being the oldest one.
After obtaining his high school diploma Dib becomes a primary school teacher in a village school, then works as an accountant, as a French-English interpreter for the US army, as designer of traditional carpet patterns and as a journalist. These experiences familiarize him with the different strata of the Algerian middle class whose aspirations he depicts in his first novels.
Taking part in the Sidi Madani writers' reunion near Blida from 23 February to 13 March 1948 is decisive for his early career. The encounters between French intellectuals and artists and Algerian writers and artists were organized by the Youth Movements as short stays in a former hotel transformed into an educational center. Mohammed Dib resided there together with Louis Guilloux, the philosopher Brice Parain, Jean Cayrol, Jean Sénac and Albert Camus with whom he formed long-lasting friendships. Jean Cayrol and Emmanuel Roblès strongly supported him at the Seuil publishing house.
His talent is recognized early on, and when he leaves his native country in 1959 to go to France, he already represents a strong voice of militant Algeria in the eyes of the French intelligentsia. He settles down definitively in France; first at the French Riviera and, in 1964, in the Paris region. From 1970 onwards he travels in a number of countries, among others the United States and Finland, where he spends longer periods and which deeply influences several of his novels. Renowned universities invite him as a lecturer and he produces a number of articles and interviews that critically reflect on his own writing practice and on the cultural field in which it has taken place. From 1983 to 1986 he teaches literary writing at the Sorbonne University.
As an accomplished writer, Mohammed Dib becomes over time a master in a diversity of styles; poetry, novels and short stories. He works with these genres sometimes simultaneously and sometimes alternating between them. His work is rewarded with numerous prizes. In 1994 he receives the Great prize of francophony of Académie française. It is the first time that the prize is awarded to a Maghrebi writer.
He dies at home at the age of 83 on 2 May 2003 a few months after the publishing of his two new books: L.A. Trip and Simorgh, that he had the joy to hold in his hands. The same year two of the novels of the "nordic trilogy" are reprinted as well as a new version of the tale L'histoire du chat qui boude. He had only recently finished the short story Laëzza, which is published together with other texts from him in 2006.