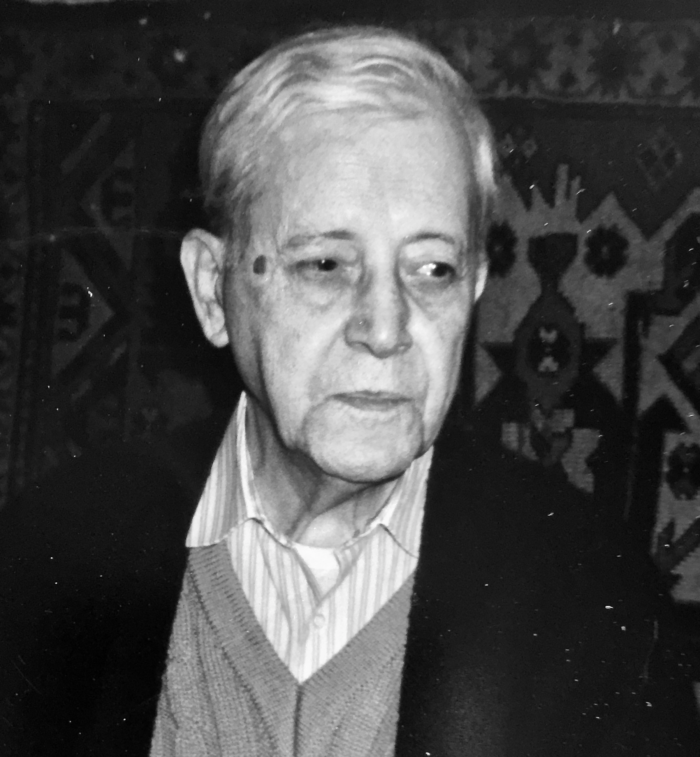 The writer in 1997. © A. Dib (All rights reserved )

Biography
Born on 21 July 1920, in Tlemcen, into a cultured family of artisans: his paternal grandfather and grand-uncle, the brothers Ghouti Dib and Mohammed Dib were masters of the Tlemcenian Arab-Andalusian music.
In 1924, a serious accident in one leg immobilized him for a year in bed. In 1931, his father dies of pneumonia as he is only eleven. His mother remains a widow with six children, of whom he is the eldest.
In 1932, he entered the college of Tlemcen, then, in 1935, at the high school of Oujda (Morocco) where he obtained his baccalaureate degree in 1938. Immediately, he practiced as a teacher for a year in Zoudj-el-Beghal, near the Moroccan border. In 1940 he was required to word as a civil for the Génie at Tlemcen. In 1942, he went to Algiers where he obtained a position of interpreter-editor French-English with the Service Prêt-Bail. Back in 1944 in Tlemcen, where he worked in different professions: accountant, carpets designer, preceptor.
In 1948, he was invited in 1948 to the literary meetings of Sidi Madani, near Blida, organized by the Youth Movements, in a former hotel transformed into an Educational Center. Writers from the « Metropolis » and Algerian writers or intellectuals are invited for short residencies. Mohammed Dib will meet, among others, Albert Camus, Louis Guilloux, Brice Parain, Jean Senac with whom he will maintain friendships. The meeting with Jean Cayrol will allow him to benefit later solid support to Editions du Seuil where he will publish his first novels.
In 1950, a new stay in Algiers where he worked for two years as editor-reporter for the newspaper Alger-Républicain. He binds with the bookseller and editor Edmond Charlot, with the writers Jean Sénac, Emmanuel Roblès and others, and participates with them in several projects of reviews: Soleil, Forge, Terrasses …
In 1951, he married Colette Bellissant, the daughter of his friend, the teacher Roger Bellissant. As soon as his first novel was published in 1952, when he returned to Tlemcen, his talent was recognized, and when, in 1959, he left his homeland for France, he already represented, in the eyes of the French intelligentsia, one of the keen awareness of Algeria struggling for independence. He moved permanently to France, first to Mougins, then, in 1964, to the Paris region. From 1970 he stayed in Russia and the Eastern countries, where he was invited, then to the United States at the University of Los Angeles as Regent's professor and in Finland, where he will return very regularly, and which several novels bear a strong imprint. He regularly contributes to reviews and newspapers including Les Lettres Françaises, directed by Aragon who supported him on his arrival in France and who prefaced his first book of poetry. From 1983 to 1986 he taught literary writing at the Sorbonne.
Complete and prolific writer, Mohammed Dib imposes himself, over time, as well in the poetry, the novel, the short story, the tale, working simultaneously or alternately in each of these literary genres. Many prizes reward his work. The Grand Prix de la Francophonie of the French Academy was awarded in 1994, for the first time to a Maghreb writer.
He died at his home on May 2, 2003 at the age of 83, a few months after the publication of his two new books: LA Trip (The Difference), a novel in verse, and Simorgh (Albin Michel). Working until the last days, he had just completed his short story Laëzza, which will give its title to the posthumous book published in 2006 by Albin Michel.